Interactive instructor-led health and safety training available in person and online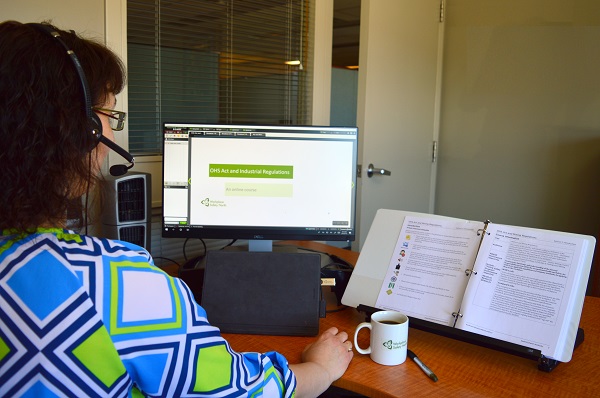 Workplace Safety North (WSN) offers a wide range of occupational health and safety training and consulting services at its facilities across northern Ontario, including Sudbury and North Bay, as well as at employer worksites.
Validity period extensions: Validity periods are extended for workers who were required to take refresher training for Working at Heights and Joint Health and Safety Committee between February 28 and August 31, 2020. You are encouraged to register for training as soon as possible. Log in to your SkillsPass account to check your status. Click here to set up your free account.
Virtual Instructor-led Training
WSN is coordinating the launch of distance learning for a number of current classroom-based programs where instructors will hold live classrooms online.
Several virtual instructor-led courses are currently available, including Joint Health and Safety Committee Refresher and Certification Part One.
The following virtual instructor-led courses are available upon request. 

Multi-sector courses
Competent Supervisor (modules in incident investigation; legislative awareness; the internal responsibility system and due diligence; and planned workplace inspection)
Occupational Health and Safety Act and Industrial Regulations
Safe Driving on Forest Roads
Chief Prevention Office-approved courses
Mining supervisor common core courses
Occupational Health and Industrial Hygiene
Introduction to Safety Programs
Manage Employees
Incident Investigation
Prepare for Emergencies
Occupational Health and Safety Act and Mining Regulations
Additional mining specialty courses
Duly Diligent Mining Supervisor
Mining Train-the-Trainer
Self-paced e-learning courses
Visit WSN E-learning page to learn more.
Health and Safety Excellence program
The WSN Health and Safety Excellence program is a performance-based rebate program developed by the Ontario Workplace Safety and Insurance Board (WSIB). Participants can create safer workplaces and earn both financial and non-financial rewards.
Class Registrations
Please contact Customer Care if you would like to inquire about any upcoming classes or a class you were previously registered in but was cancelled due to COVID-19 closures: 1-888-730-7821 (toll-free Ontario) or 705-474-7233. 
Training program participants are requested to:
Wear a face mask or face covering
Have been trained by their employer on the proper use, care, and limitations of such face masks or face coverings
Have received COVID-19 screening in advance by their employer
Understand and co-operate with WSN pre-screening of all participants prior to entering its facilities. (WSN reserves the right to refuse anyone entry.)
Train at your facility
Please note WSN continues to hold training courses at employers' facilities that allow for proper physical distancing between participants and the instructor. For additional information or to request a course be offered at your facility, visit https://www.workplacesafetynorth.ca/training/all-courses, call 1-888-730-7821, or contact customer care. 
Field Consultations
WSN health and safety specialists are continuing to assist employers at the workplace by providing a range of audits and assessments, including advice on COVID-19 best practices. If you are interested in having a WSN health and safety specialist work directly with you, please contact the specialist in your region.
Webinars
WSN offers free on-demand webinars on health and safety during COVID-19, which you can listen to and watch at your convenience.
1. COVID-19 Conversations: Adapting to the New Normal – Community business leaders Amy Kembel and Karen McKissick share their experiences during the 59-minute webinar. Discussion topics include the opportunities and challenges of remote work, engagement strategies to keep the workforce productive, and how to support employee mental wellbeing during times of uncertainty. 
2. COVID-19 Conversations: Leadership in Times of Uncertainty – Learn skills that can make a difference in this 54-minute webinar with leadership expert Nadine Trodel. Discussion topics include how to lead in a crisis; the power of observation to quickly learn and adapt to a new environment; skills that make a difference to influence, enable, and inspire; and how to engage the workforce from the frontline to the executive suite.
3. COVID-19 Conversations: Returning to the Workplace - Legal Considerations for Employers – Lawyer Brad Smith discusses legal considerations during the pandemic in this 59-minute webinar. Discussion topics include general considerations for businesses re-opening; legal considerations around health and safety precautions, absenteeism, and work refusals; and employer and employee responsibilities.
4. COVID-19 Conversations: Maintaining a Respectful Workplace as Businesses Re-open – Learn from community business leaders, CEOs Helen Francis, YMCA, and Paul Andre, WSN, who share their return to the workplace plans, and discuss how they will foster a respectful and inclusive workplace during the pandemic.
5. COVID-19 Conversations: Managing Pandemic Fatigue in the Workplace – Irene Caufield-Cook, M.S.W., R.S.W., owner of Caufield Counselling and Consulting, discusses the psychological impact of pandemic fatigue on employees, and what employers can do to support employee mental wellbeing during times of uncertainty.
6. Avoid distracted driving using mindfulness techniques: This 45-minute webinar is geared to all employees. Nearly 65 per cent of near crashes have some form of driver distraction. According to the Canadian Automobile Association, checking a text message for five seconds while travelling 90 km hour means you have just travelled the length of an entire football field blindfolded. Learn more about distracted driving and how practicing mindfulness can improve your driving.
Related
Program Delivery at WSN Facilities and Training Rooms
Health and Safety Excellence program: pandemic updates