Mine rescue volunteers from Vale Canada Ltd.'s East Mines were crowned with gold hard hats by Workplace Safety North (WSN) and Ontario Mine Rescue as the overall winners of the 64th annual Provincial Mine Rescue Competition in Timmins, June 5 and 6, 2014.
The Vale East Mines team consisted of Captain Lorne Plouffe, Will Davies, Justin Whitmore, Jonathan Hamilton, Fred Pelletier, Aime Gagne, Jean Yves Doiron, Perry Simon and Briefing Officer Mike Johnson. The team, which won the Sudbury District competition in May, also earned the First Aid Award.
Seven competing teams from across Ontario, selected in district competitions, were evaluated on their firefighting skills, first aid response, use of emergency equipment and decision-making ability under stress in a simulated emergency underground at Goldcorp Canada's Dome Mine.
Denis Prevost, mine rescue technician for First Nickel Inc.'s Lockerby Mine, won the award for top technician. Prevost won the Sudbury District competition in May.
In the closing banquet, Jeff Sowerby, a mine rescue volunteer at Compass Mineral's Sifto Salt Mine in Goderich, was honoured for 30 years of service to Ontario Mine Rescue. 
Mine rescue team members, the backbone of Ontario Mine Rescue, are volunteer mine workers trained by Mine Rescue Officer/Consultants to respond to all types of mine emergencies including fires, explosions and falls of ground.
During the exercise five-member teams had to descend 150 feet down a raise using fall protection equipment, extinguish a fire, provide first aid to two miners, rescuing one of them trapped beneath a large tire. The entire operation was conducted "under oxygen" (using self-contained rebreathing apparatus). 
Competing mine rescue teams represented Compass Mineral, Sifto Salt (Southern District); Goldcorp Canada, Red Lake Gold Mine #2 (Red Lake District); Richmont Mines' Island Gold Mine and Mill (Thunder Bay/Algoma District); Kidd Operations, a Glencore Company (Timmins District); St. Andrew Goldfield Ltd. (Kirkland Lake District); Sudbury INO, a Glencore Company (Onaping District); and Vale, East Mines (Sudbury District).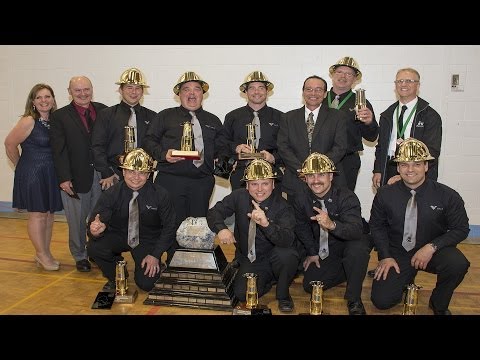 Awards presented:
First overall – Vale East Mines
Overall runner-up – Compass Minerals, Sifto, Sifto Salt Goderich
Technicians
1st Denis Prevost, First Nickel Inc., Lockerby Mine

2nd Denis Bilodeau (Barrick, Hemlo Operations, Thunder Bay/Algoma District); 

3rd Dan Rulli (CGC Inc., Hagersville Mine, Southern District)
Team Firefighting – St. Andrew Goldfields
Team First Aid – Vale East Mines
Team Special Equipment – Richmont Mines, Island Gold
This year's competition was co-hosted by: Goldcorp Canada; Kidd Operations, a Glencore Company; Lake Shore Gold and Dumas. The event was sponsored by: Drager Safety; Kidd Operations, a Glencore Company; Technica Mining; Zetec; MSA; Acklands Grainger; Dynamic Safety International; Levitt Safety; SPI Health and Safety and Soucie Salo Safety.
Ontario Mine Rescue is a part of Workplace Safety North, which provides products and services to promote workplace health and safety in the mining, forestry, and paper, printing and converting industries, as well as workplaces across northern Ontario.
SLIDESHOW: 2014 Ontario Mine Rescue provincial competition
Ontario Mine Rescue competition in the news
Vale mine rescuers tops in Ontario | Wawa News 
SAFETY: Vale wins Ontario mine rescue competition | Canadian Mining Journal
Underground fire scenario tests rescue teams | Timmins Press
Vale mine rescuers tops in Ontario | Northern Life
Vale East tops at provincial mine rescue challenge | Timmins Press
Sudbury's Vale wins provincial mine rescue event | Timmins Times
Mine Rescue has a global perspective | Timmins Times
Mine Rescue competition has a secret! | Timmins Times
First woman leads team in Ontario mine rescue competition - Sudbury - CBC News
Mine rescue captain breaking barriers | Timmins Press
Related
Ontario to host International Mines Rescue Competition 2016
Welcome to OMR's new Chief Mine Rescue Officer Shawn Rideout