May 13 Industrial webinar to prepare for upcoming MOL inspection initiative
New and young worker employer guide – Free download includes new worker orientation checklist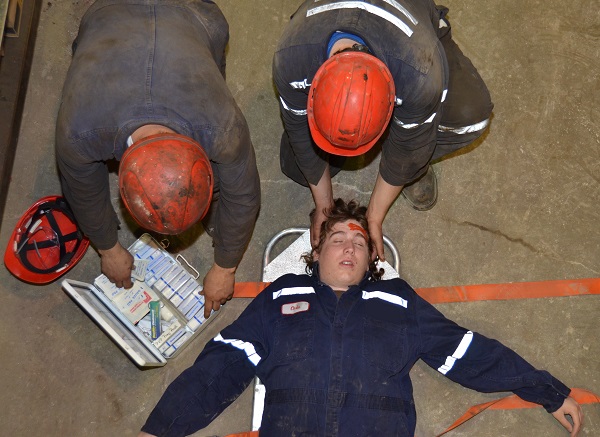 Thirty young workers, aged 15 to 24, died in work-related incidents in Ontario between 2012 and 2016, according to the Workplace Safety and Insurance Board (WSIB). 
In the summer of May 1 to August 30, 2019, the Ministry of Labour (MOL) conducted a health and safety initiative focused on industrial workplaces in Ontario with a view to helping protect vulnerable new and young workers, and from July 15 to August 30, MOL inspectors visited Ontario industrial workplaces. 
First month on the job most dangerous
Workers at any age starting a new job, as well as young workers under age 24, are three times more likely to be injured during their first month at work.
"When training new and young employees, successful businesses see this as the perfect opportunity to instill a strong safety mindset," says Tom Welton, General Prevention Services Director at Workplace Safety North (WSN). 
"A strong health and safety culture has a direct effect on the company's reputation, morale, and overall productivity and revenue, so it's crucial to provide good training, ongoing coaching and supervision to new and young workers – all good supervisors understand this," notes Welton.
Top 5 health and safety orders 
Last summer, MOL inspectors visited 1,901 Ontario workplaces and issued 7,675 orders, including 116 stop work orders, and the following are the top five issues. In reviewing 2018 MOL inspection initiative results, companies can proactively prepare for the upcoming inspection initiative and make their workplaces safer. 
1. Basic occupational health and safety awareness training for workers and supervisors (844 orders or 11 per cent)
The law that requires all Ontario workers be given basic workplace health and safety awareness training came into effect on July 1, 2014. 
The short, simple training gives workers and supervisors a basic understanding of the law, their roles and responsibilities, and the workbooks and e-learning modules are provided free by the Ontario government. 
The basic awareness course is essentially 'Safety 101' for new workers and it's the law. From there it is expected that employers will provide hands-on training regarding housekeeping, machine guarding, hazardous materials, etc.
2. Safe handling of materials (721 orders or 9.93 per cent)
Manual material handling is key in preventing the number one workplace injury claim, musculoskeletal disorders such as repetitive strain injury, and back and arm and hand injuries related to lifting, carrying, and moving items. MOL orders related to material handling were up sharply in 2018 from the year before. In addition to basic health and safety awareness training, it's expected employers provide hands-on training. 
Orders issued under the Material Handling sections 45 to 66 of the Regulations for Industrial Establishments refer to ergonomics, safety procedures for loading and unloading materials, material handling, and the use of machinery such as forklifts, cranes, and other mobile equipment.
3. Post a copy of the Occupational Health and Safety Act in the workplace (507 orders or 6.61 per cent)
Up from 452 orders the previous year, there are a number of items that must legally posted in the workplace, including:
(a) Occupational Health and Safety Act (green book)
(b) Health and Safety at Work: Prevention Starts Here – poster
(c) Employment Standards Act, 2018 – poster
(d) Health and Safety Policy – prepare and annually review a written health and safety policy
(e) Workplace Violence and Harassment Policy
(f) Names of your Joint Health and Safety Committee Members or Health and Safety Representative
Other than the OHSA green book, which costs $8 plus HST, poster materials and sample policies are available free of charge online from the Ministry of Labour.
4. Good housekeeping in the workplace (467 orders or 6.08 per cent)
Orders issued under the Housekeeping sections 11 to 20 of the Regulations for Industrial Establishments refer to the business premises and the importance of keeping the work area free of obstructions, hazards, and accumulations of garbage, snow, or ice.
5. Maintain equipment in good condition (392 orders or 5.11 per cent)
The law states, "an employer shall ensure that the equipment, materials and protective devices provided by the employer are maintained in good condition." 
To keep workers safe, employers and supervisors must ensure equipment used by workers is properly maintained at all times, including regular inspections, maintenance programs, and ensuring workers report any deficiencies when detected. For example, faulty electrical equipment is the cause of many injuries each year, and yet it's easily preventable. 
Public now has access to company safety statistics
A newly released database from the WSIB allows public access to company health and safety statistics, so young workers and their parents can research safety records of potential employers.
New and young workers continue to be exposed to many similar hazards in Ontario workplaces across all sectors, regardless of the size of the workplace or nature of business. Employers and supervisors are in the best position to positively influence safety culture and ensure the protection of new and young workers.
For more information, contact Workplace Safety North.
Related
New and young workers - health and safety resources includes guidelines, posters, checklists, and training
Small Business Health and Safety - Ministry of Labour
Small Business Health and Safety Checklist - Users enter the number of employees and the program automatically creates a checklist of everything needed to meet current Ontario health and safety legislation
New young worker industry videos introduce health and safety topics - Canadian Corrugated and Containerboard Association introduces bilingual video series
A step-by-step guide: What to expect from a Ministry of Labour visit - How to prepare for Ministry of Labour health and safety inspections and initiatives