Tuesday, October 17, 2017
New tool compares workplace safety program to company culture
Climate Assessment and Audit Tool brochure
How safe do you feel in the workplace? What's your day-to-day experience when it comes to your colleagues and health and safety? 
Company culture is reflected in everyday experiences in the workplace – shared attitudes, beliefs, and behaviour – including our attitude toward workplace health and safety, and it's difficult to measure. The new Climate Assessment and Audit Tool (CAAT) was developed as a way to measure both a company's health and safety system, and culture.
Since its introduction in 2015, more than 2,000 people from six Ontario mining worksites have participated in a two-year pilot project at Workplace Safety North.
Organizations gain insight into how well their health and safety culture and management systems are aligned, and learn how they affect each other; which provides an overall picture of how the "internal responsibility system" (IRS) is functioning.
"It really taught us a lot about ourselves"
Bryan Wilson, General Manager at North American Palladium, discussed his organization's participation in the CAAT pilot project at a 2017 Mining Health and Safety Conference presentation, which was livestreamed across the globe last April.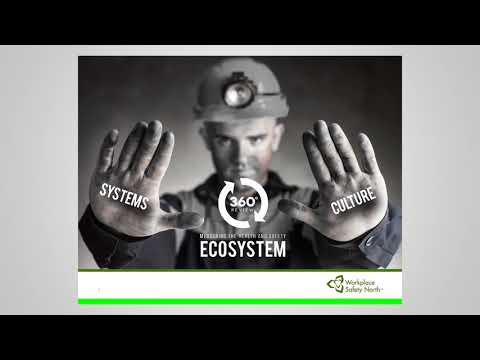 "I ventured into this journey with Workplace Safety North when I was at an Ontario Mining Association meeting – I couldn't get my hand up fast enough." said Wilson. "About five folks from Workplace Safety North came to the site and they were there for three days. They spoke with 225 people…It was my goal to put a lot of people in front of them because this is the IRS [internal responsibility system] – it has to come from the workers."
"When we got the results back…I put the document in front of the board of directors and they bit into it. It really taught us a lot about ourselves," said Wilson. "We had a strong culture but needed ways to improve our systems. WSN helped us put together an IRS task force. 
"So we put together a group of seven folks, mainly workers. It's been a fantastic journey and we've done some amazing things as a team, and it's driven by the voice of the workers. 
"What's the CAAT? It's something different; you can't do things the same way and expect different results. As an industry, we have to link arms…to bring safety to the next level," noted Wilson.
Six operations, representing about 10 per cent of the provincial mining industry, participated in the pilot project, according to Cindy Schiewek, WSN Culture, Learning, Development and Audit Specialist. 
"We didn't just talk to the leadership team; we surveyed workers, supervisors, contractors, and Joint Health and Safety Committee members. Why? It's the internal responsibility system – everyone needs to have a voice."
A collective voice for workplace safety
Developed in response to the 2015 Mining Health, Safety, and Prevention Review Final Report, which highlighted 18 recommendations to improve the health and safety of underground mine workers, the CAAT is a method to ensure every person in the workplace has a voice.
"One of the recommendations in the Review called for the development of an internal responsibility system best practice guideline," says Mike Parent, WSN Mining Director. "Developed in partnership with the Institute for Work and Health and the Ontario Mining Association, the CAAT helps support mining operations by providing them with a better understanding of how their safety culture – better known as the internal responsibility system – is working."
Using best practices based on Mining Health, Safety and Prevention Review consultations, interviews with subject matter experts, and document research, the CAAT system audit and perception survey was developed by WSN and the Institute for Work and Health (IWH). 
Strong correlation between company culture and workplace injury rates
Data collected during the CAAT pilot project was analyzed by the Institute for Work and Health, which found a strong correlation between perception survey scores (regarding company safety culture) and the incidence of work-related injury and illness. 
The mining operation with the most positive internal responsibility (safety culture) scores had the lowest frequency of injury. 
Pilot project findings show the new Climate Assessment and Audit Tool is predictive in assessing workplace health and safety performance and, as a result, can provide workplaces with specific guidance on where and how to improve.
For more information, contact info@workplacesafetynorth.ca
Related
New tool measures workplace safety systems and culture
IWH work on provincial review supports new mining safety culture and system audit tool 
Video: New tool compares workplace safety program to company culture