Industry-generated predictive information better prevents workplace injuries and illnesses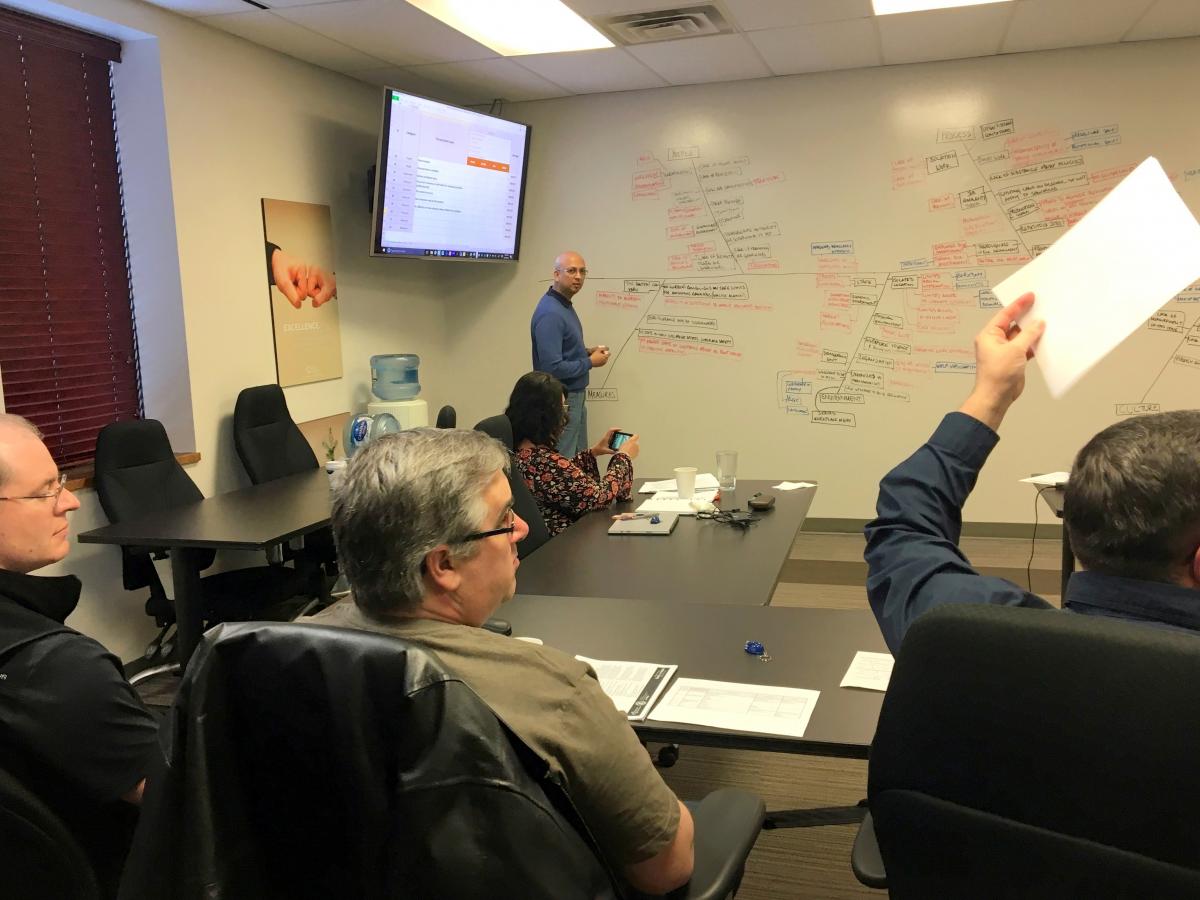 Ontario workplaces are getting safer thanks to a risk-based analysis developed by the Ministry of Labour, Immigration, Training and Skills Development and facilitated by health and safety associations like Workplace Safety North.
A risk assessment is a formal risk ranking of health and safety hazards in a specific industry sector, as identified by the workers, supervisors, and employers in that sector.
"The risk assessments and root cause analyses are working," says Sujoy Dey, Ph.D., Corporate Risk Officer, and Manager of the Enterprise Risk Management Unit at the Ministry, "it's giving us the kind of information we need, in terms of enhancing predictive capabilities and coming up with interventions that are targeted, ­­and moving away from the whole notion of a one-size-fits-all solution to risk." Dey specializes in the management of risk and decision analysis under conditions of high business variability and operational uncertainties.
The risk assessment workshops focus on diversity of participants and ample participation through discussion and anonymous voting. While the risk-based analysis tool is important, the emphasis is on method – ensuring all perspectives are respectfully heard and noted.
Participation enables strong results
"The program's success comes from how we celebrate our engagement with the sector — both on the worker and employer sides," says Dey. "And not just industry sectors but the system — be it Ministry frontline inspectors or sectors that cross boundaries in terms of regulations. So, for example, in the trucking sector, you have both the provincial and federal folks, and then you have the researchers."
"The risk assessment and root cause analysis workshops celebrate that engagement. To be a little clearer: The success of these workshops – I always say it's not just the method or the tool that you use for the risk assessment or root cause analysis – it's basically how you go about doing it."
Training on how to facilitate risk management workshops
After the top ten risks are found, the next step is a root cause analysis of each risk, starting with the top risk. Response to the results has been so strong that industry advisory committees have encouraged the government and health and safety associations to increase their ability to do more workshops.
With the help of Tom Welton, Director of Prevention Services and Education Programs and his team at Workplace Safety North (WSN), in 2020 the Ministry launched new virtual workshop training for the health and safety associations.
National interest
Other provinces have shown interest in the risk-based approach. In the past few years, the results of Ontario's risk-based analyses have been presented to government and health and safety organizations in British Columbia and Alberta. The material was translated into French and provided to the Quebec mining sector.
Risk-based analysis with its predictive perspective is a more recent direction in Ontario's occupational health and safety strategy. Currently, WSN risk assessments are underway for mining, diamond drilling, corrugating, and logging, with plans to begin the silviculture sector in the fall.
"It's going to be the way things work in terms of integration into the new occupational health and safety strategy, and it's going to be very interesting," says Dey. "Due to the need and request from stakeholders – all the companies served by Ontario health and safety associations – we are working hard to meet their requests. We can see risk-based analysis is resonating extremely well with Ontario sectors and the health and safety world."
For more information, contact workplacesafetynorth.ca.
View related sector-based risk management research
Paper, Printing and Converting sector