Friday, February 10, 2023
Ontario employers with six to 19 employees eligible for funding until April 2024
| | |
| --- | --- |
|   | |
|   | Joel Moody, Chief Prevention Officer for Ontario, explains the health and safety training reimbursement program for small businesses in a three-minute YouTube video. |
To help small business owners with their health and safety, the Ontario government is reimbursing up to $175 to help cover the cost of Health and Safety Representative training.
"This is a great program for any Ontario business with six to nineteen employees," says Tom Welton, Director of Health and Safety Services and Education Programs at Workplace Safety North (WSN). "The training provides the selected health and safety representative with important health and safety training on their responsibilities and role in the workplace. Employers benefit as the government is essentially covering the 25 dollar training cost, plus 150 dollars to cover the employee's time."
Joel Moody, Ontario's Chief Prevention Officer, explains the program in a three-minute video: "We know that small businesses have a higher injury rate than Ontario's averages. We know that learning health and safety rules and then training on those health and safety rules is no small task for small business owners and operators in a smaller organization who don't have the resources that a larger corporate health and safety unit has for bigger business."
"It only takes less than one day to complete, and it can be done at your own pace," says Moody. "Once the Health and Safety Representative training is done, the employer should submit an application for reimbursement. I want to urge every small business owner that employs six to 19 employees to take advantage of this special program."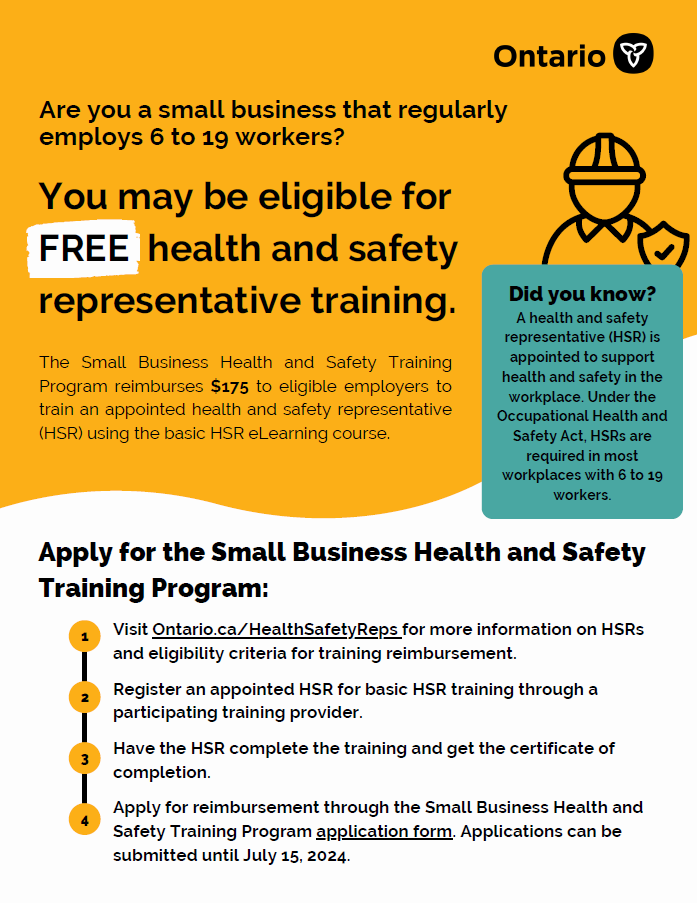 A Health and Safety Representative (HSR) is required by law in most Ontario workplaces that regularly employ six to 19 workers. The representative has to be selected by workers at the workplace who do not exercise managerial functions, or by the union where the workplace is unionized.
"The one-day HSR e-learning course, available in French and English," says Welton. "The participant will learn about the role of the worker health and safety representative, including their main duties and responsibilities.
"A health and safety rep should be committed to improving health and safety conditions in the workplace, similar to the role of members of the joint health and safety committee in larger workplaces that have more than 19 employees."
The e-learning course is provided by Ontario Health and Safety Associations, including Public Services Health and Safety Association, Workplace Safety and Prevention Services, Workplace Safety North, and the Infrastructure Health and Safety Association. The reimbursement program is in place for training up to March 31, 2024, with reimbursement applications processed until July 15, 2024.
Related
Health and safety representative basic training - Workplace Safety North
Formation de base du délégué à la santé et à la sécurité - WSN
Health and Safety Representatives - Ministry of Labour, Immigration, Training and Skills Development
Health and safety checklist for small business owners - WSN
Free workplace safety resources – WSN
Joint Health and Safety Committee training – legally required for workplaces with 20 or more employees