Workplace Safety North introduces revamped course featuring popular training and industry reference book "The Cutting Edge"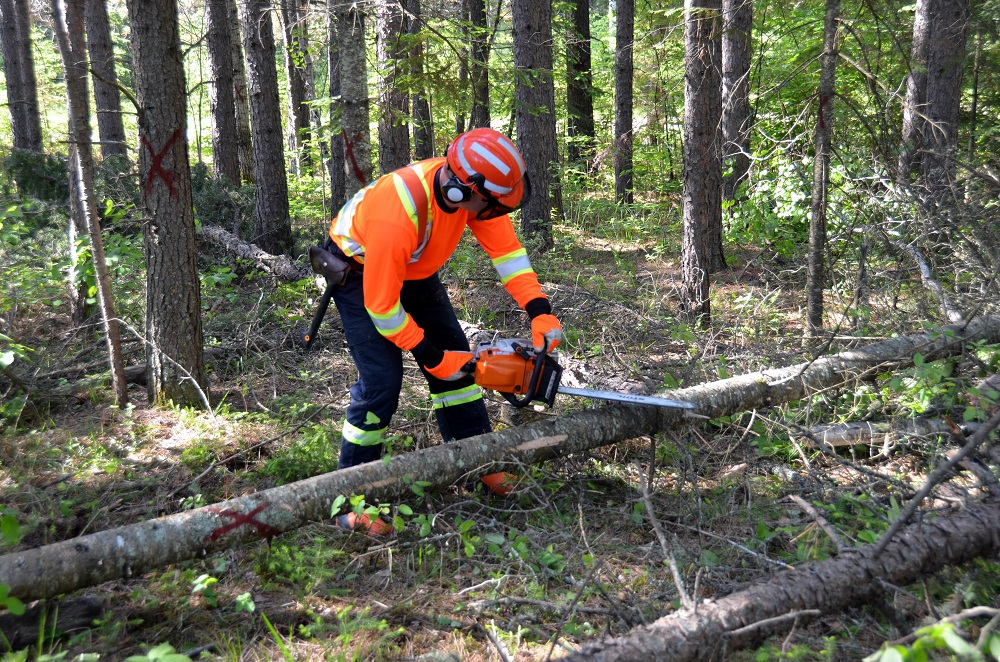 After more than a year of research and consultation with its own subject matter experts and industry, Workplace Safety North (WSN) has launched the updated "Introduction to Professional Chainsaw Training" to the province of Ontario. The popular book "The Cutting Edge" has been integrated into the provincially approved course material and supplies much greater detail for course participants.
Forestry one of the most dangerous occupations
"Forestry is one of the most dangerous jobs and to know how to operate and maintain a chainsaw properly is one of the core skills in the conventional logging industry," says Tom Welton, WSN Prevention Services and Education Programs Director. "As Ontario's designated health and safety association for the forest products sector, WSN is fortunate to be able to get important industry feedback from our member firms and approved training providers.
"The hands-on part of this course is very practical and is reinforced in the classroom training videos. One video used in the classroom training, 'Safe Use of Chainsaws,' is the most popular video on the WSN YouTube channel," notes Welton. "To date, it's received almost half a million views." WSN created the training materials to best meet the needs of participants.
Most up-to-date information and best practices
In 2019, WSN began updating its professional chainsaw operation course materials. This included an entire overhaul and redesign of the leader guide, participant manual, and accompanying PowerPoint presentation.
WSN Health and Safety Specialists and Program Development department worked to ensure the most up-to-date information and today's best practices were incorporated into course materials. WSN also consulted with its approved third-party trainers on the development of the material.
"This was a very large undertaking – years in the making actually – and we have our education services team, health and safety specialists, as well as third-party trainers across the province to thank for their expertise and diligence in updating this important course," says Welton. "The team referenced manufacturer and user guide maintenance manuals, ensuring consistent specifications and guidelines to ensure best practices are reinforced throughout the training."
Major updates to materials
Major updates to the materials include a full suite of new photos to depict today's best practices. New video content was also included in the PowerPoint presentation to show the proper safe techniques in chainsaw handling and operation.
"There are about eight video clips that depict proper techniques when starting a chainsaw," says Welton. "So, you're looking at examples of ground start, leg-lock start, locking the chainsaw, and how to notch and fell trees effectively. The videos show best practices and proper techniques."
Updates to the program has "The Cutting Edge" becoming the new participant manual, which can also be used in the field as a reference guide for chainsaw operators. The manual is divided into three modules, and each concludes with a case study and review questions. This allows instructors to see learning outcomes, including strengths and weaknesses of students.
"The training participant's manual is completely revamped," says Welton. "It's actually doubled in size, so a lot of new information is included in the program, and this comes from our subject matter experts. The WSN forestry team included Kevin Plant, Bernie Stockermans, Gilles Boisvert, Mike Lemay, Chris Serratore, and Konor Poulin."
Bestselling reference manual used by experts around the world
The Cutting Edge continues to be the bestselling WSN reference manual for professional chainsaw operators and is a recognized industry leader. The manual is used in the WSN Cutter-Skidder certification training and by forestry health and safety trainers around the world.
Successful completion of Introduction to Professional Chainsaw Operator training is a pre-requisite to become registered in the Ministry of Labour, Training and Skills Development (MLTSD) mandatory Cutter-Skidder modular training program, which is a legislated requirement for workers in Ontario's logging industry.
The seventh edition has all-new photographs, diagrams, and updated descriptions of techniques and cutting processes. The 290-page manual has information covering the entire range of a chainsaw operator's activities: safe chainsaw handling, notching and backcutting, felling techniques, limbing and bucking, special techniques, and sharpening and maintenance.
"Each module and unit have been updated to ensure participants are learning about chainsaw safety from the moment they pick up a chainsaw," says Welton. "They will also become more familiar with the different hazards using a chainsaw in a logging environment or during various industrial applications.
"The course also incorporates updated adult learner techniques. That's why we've incorporated video clips throughout the presentation. We still have the original video segments, but now we have short 10- to 30-second video clips that are incorporated throughout the entire presentation."
Streamlined field practice for 3-day course
The three-day in-person professional chainsaw training program consistently follows modules and units in The Cutting Edge and has updates to Module 4: Field Practice, which includes a streamlined approach to the coaching, demonstration and practice session conducted in the field with participants.
"After we put together a finalized draft, we consulted with our third-party trainers," says Welton, "and they provided us with really valuable feedback as well, and that was included in the training program materials."
The Refresher Training for approved training providers, which is required training every three years, was also updated, and an updated Train-the-Trainer program is expected to be available later this year.
For more information, contact Workplace Safety North.
Related
Introduction to Professional Chainsaw Operation: Full Course - upcoming training
Refresher Training for Approved Trainers of Introduction to Professional Chainsaw Operator and Cable Skidder (IPCO-IPCS) Programs
Forestry health and safety training
Forestry health and safety services
Free forestry health and safety resources