Thursday, February 15, 2018
Overview of Ministry of Labour's "Risk Assessment and Management for Mines and Mining Plants"
Recently, the Ministry of Labour (MOL) released a risk assessment guideline for mines and mining plants in accordance with January 1, 2017, amendments to Regulation 854 Mines and Mining Plants of the Occupational Health and Safety Act, which relate to water and traffic management programs, recording of seismic events, and risk assessments.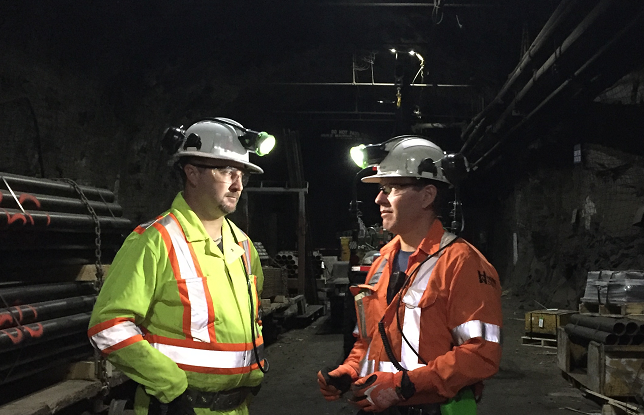 Accordingly, employers are required to assess and manage the risks of hazards and potential hazards that could arise in the workplace due to the type of work or the conditions of work. Employers are required to develop and maintain written measures to control the risks, and eliminate the hazards, where possible, depending on the likelihood for worker injury or illness. Risk assessments must be reviewed annually, or as often as is necessary.
"The updated regulation requires Ontario mines to conduct risk assessments for all hazards," says Mike Parent, Mining Director at Workplace Safety North (WSN). "Risk assessments are the building blocks for successful health and safety management systems. Due to the levels of risk water impoundment and traffic bring to a mine, it's important to conduct risk assessments as they are essential in the development, implementation and maintenance of management programs for these hazards." 
The guideline includes an overview on how to identity, assess and manage workplace hazards. Employers should follow these steps when conducting a risk assessment:
Identify all existing and potential health and safety hazards
When identifying hazards, consider the nature of the workplace including type of work and conditions of work
In consultation with the employer and the joint health and safety committee, decide which hazards will be risk-ranked
Assign a level of risk to each hazard and then rank the hazard accordingly
Identify the highest-ranking hazard for a root-cause analysis to better understand how it can lead to illness or injury
Compare top hazards in your workplace to those in the mining sector using the MOL's most recent risk ranking assessment to ensure all hazards have been considered
Once hazards have been identified and assessed, employers should manage risks by applying the most effective control whenever possible. Personal protective equipment should be considered the last line of defense. Common controls include:
Elimination, substitution or reduction
Engineering controls
Work practices
Industrial hygiene practices
Administrative controls
Personal protective equipment
It will be up to Ontario employers to ensure they are complying with the risk assessment requirements set out by the MOL. For more detailed information on risk assessment guideline, please visit the Ministry of Labour website.
For more information, contact info@workplacesafetynorth.ca 
Related
Risk Assessment and Management for Mines and Mining Plants - Ministry of Labour
New safety regulations for Ontario mines
New mining safety legislation on high visibility workwear July 1