Monday, February 14, 2022
Two successful examples of control strategies for airborne hazards
Reducing diesel particulate matter in underground mines: Two successful examples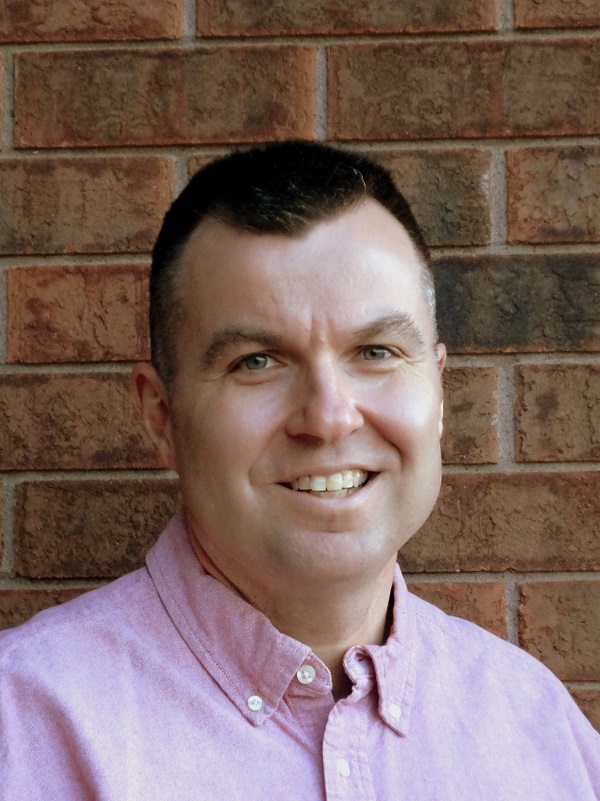 A new guideline document for controlling diesel emissions in underground mines was introduced by the Ontario mining industry technical advisory committee.
"Diesel engine exhaust, including the diesel particulate matter, has been classified as carcinogenic to humans by the World Health Organization," says Keith Birnie, Industrial Hygienist and Ventilation Specialist at Workplace Safety North (WSN) and committee chair and coordinator. "For many years, diesel engines have been the workhorse in a large number of industries including mining, and diesel exhaust exposure presents an inhalation health hazard to workers."
In 2021, mining industry volunteers who make up the WSN Workplace Environment Technical Advisory Committee developed a practical reference document, "Reducing diesel particulate matter in underground mines: Two successful examples," for Ontario mining operations. The guide has information about the hazards of diesel engine exhaust along with examples on controlling diesel emissions, with a focus on diesel particulate matter.
Occupations with potential exposure to diesel emissions include miners, construction workers, heavy equipment operators, bridge and tunnel workers, railroad workers, oil and gas workers, loading dock workers, truck drivers, material handling operators, farmworkers, long-shoring workers, and auto, truck and bus maintenance garage workers.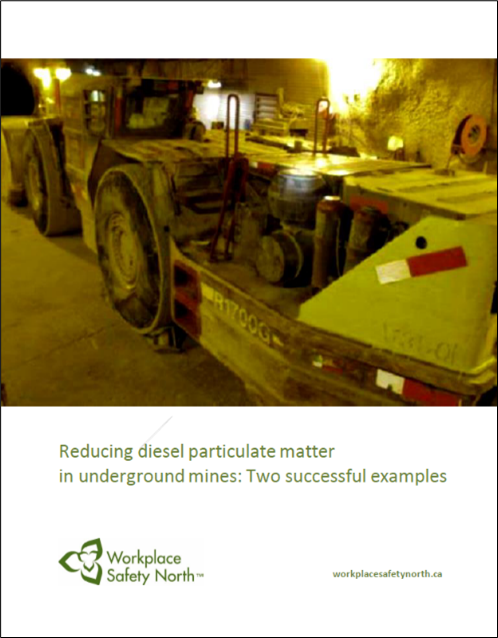 The diesel exposure guideline includes:
Health effects
Standards in place to protect miners
Examples of successful control strategies implemented by two mining operations
Most heavy- and medium-duty trucks are equipped with diesel engines, as well as mining equipment, buses, locomotives and ships, bulldozers, tractors, and other types of equipment such as bucket lifts and diesel-fueled generators.
Approximately 9,100 workers in the Ontario mining industry are estimated to be exposed to diesel exhaust emissions. CAREX Canada estimates that about 56 per cent of mine workers exposed to diesel exhaust in Ontario are exposed at high levels due to the accumulation of emissions in underground operations.
Changes to diesel occupational exposure limits for Ontario
"Although larger operations are moving toward battery electric vehicles, they still have and will likely have diesel equipment for quite some time into the future," notes Birnie. "The Ministry of Labour, Training and Skills Development is planning to lower diesel particulate matter exposure limits and has consulted with industry on a regulatory proposal. This is one of the largest proposals I have ever seen from the Ministry especially in the context of ventilation and industrial hygiene."
Practical solutions on how to overcome challenges
"The intent of this guideline is to provide practical solutions on successfully implementing control strategies for reducing diesel particulate matter," says Birnie. "Most people know 'what' they need to do, but they're interested in 'how' to do it and overcome the challenges. Filters are excellent at lowering particulate emissions, and this guide shows how two mining operations successfully faced these challenges."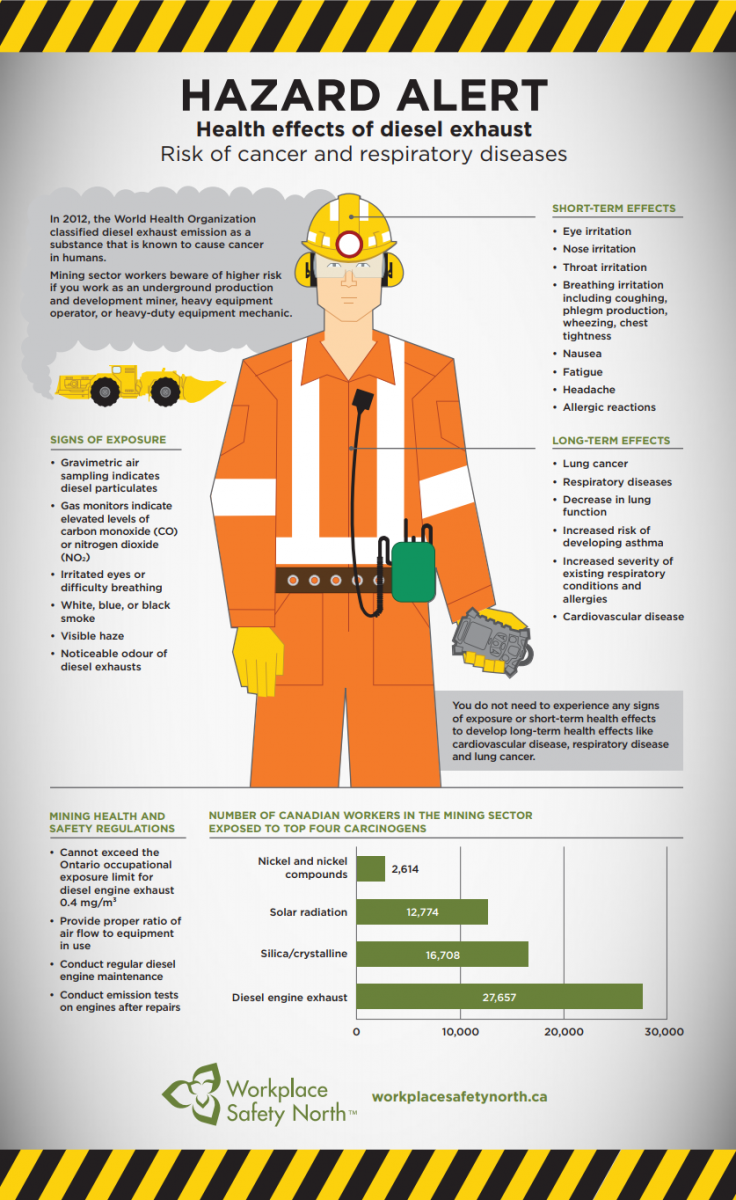 The information in the reference material is provided as a guide to assist underground mining operations in developing those policies, programs, and how to overcome some of the control implementation challenges. Workplace Safety North, the Ontario health and safety association for mining and forest products industries, is host to industry advisory committees that tackle  top health and safety concerns.
Advisory Committees provide sector-specific expertise. The Technical Advisory Committees within the Mining Advisory Committee include (1) Ontario Mine Rescue, (2) Mining Equipment, (3) Safety and Loss Control, and (4) Workplace Environment (a) industrial hygiene and ventilation, and (b) ground control. Prevention of occupational disease is a top priority for the Ontario health and safety system.
For more information, contact Keith Birnie.
Related
Auxiliary Ventilation: Good Installation and Maintenance Practices for Miners

Free training resources on diesel emission hazards for all industries: Participant training manual and Leader presentation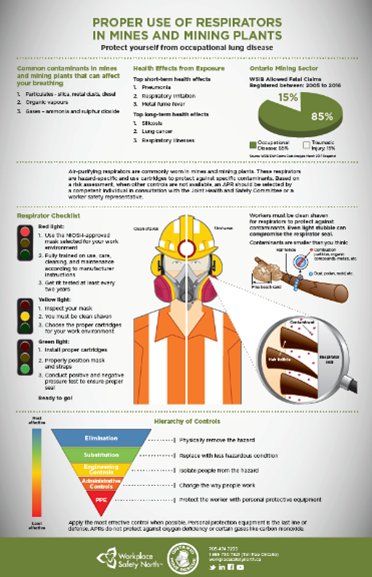 Hazard alert: Diesel fuel tank vent systems and risk of flash fires
Infographic: Health effects of diesel exhaust in mines
Infographic: Proper use of respirators in mines and mining plants
Occupational Diseases in the Ontario Mining Industry: An update from the Occupational Cancer Research Centre
Ontario Ministry of Labour Diesel Survey of Mines and Mine Contractors