Winner will represent Ontario at international competition in August
This year promises to be a long competition season for at least one Ontario Mine Rescue team, and anyone interested in mine rescue.
With training already underway for the district competitions – May 11 to 13 across the province – the season will end with the winning team representing Ontario Mine Rescue in the 10th International Mines Rescue Competition (IMRC 2016), August 19 to 26 in Sudbury, hosted for the first time in Canada.
While the winner of the Ontario Mine Rescue Provincial Competition, June 9 and 10, is guaranteed entry into IMRC 2016 – Canada, hosted by Workplace Safety North's Ontario Mine Rescue, five Ontario teams have applied and are currently on the waiting list for admission to the event.
Sixteen mine rescue teams from nine countries have applied and been accepted as of May 3 for the 30-team competition. Four positions are reserved for the winners of the four major Canadian regional mine rescue competitions, such as the Ontario Mine Rescue Provincial Competition.
Two other Canadian teams, from Manitoba and Saskatchewan, are on the waiting list. Canadian admission is currently limited to allow as many international teams as possible to participate. Visit IMRC2016.ca for an up-to-date list of accepted teams and the waiting list.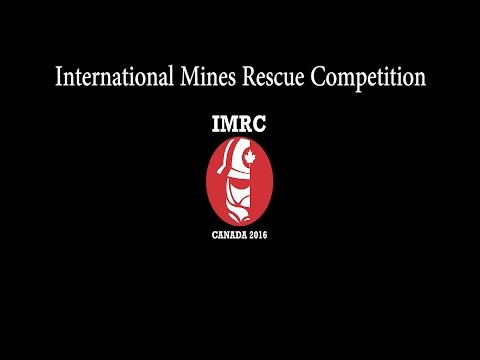 Though IMRC 2016 has room for 30 teams, IMRC 2016 Planning Co-ordinator and Secretary General of the International Mines Rescue Body, Alex Gyska says more international teams are expected to register. 
Several countries have been in contact, and at least one plans to enter multiple teams, he says. 
"In terms of team registration, we're way ahead of previous (international) competitions," Gryska says.
Seven of the 13 countries that attended the last IMRC in Poland, have yet to register and most have been in contact. Organizers are anticipating the largest international competition to date.
Whether there will be room for Canadian and Ontario teams that are on the waiting list remains to be seen, Gryska says.
The safest, though not necessarily the easiest, way for an Ontario team to secure an entry into the international competition, is to win the provincial competition, says Ted Hanley, Ontario Mine Rescue General Manager.
An alternate route for Ontario mine rescuers to be involved in the international competition is to participate as judges or volunteers. 
Though IMRC 2016 will be the first international competition with international judging, the majority of judges will be from Ontario. Approximately two-thirds of the more than 80 applicants are from Ontario, most are current mine rescue volunteers.
For non-participants, all three levels of competition –  district, provincial and international – are open to the public. 
This year's provincial competition will be held at NORCAT's Underground Centre, the former Fecunis Mine, in Onaping, northwest of Sudbury. As in recent competitions, the underground activities will be streamed to viewers on the surface.
Spectators will also be able to view the IMRC 2016's underground emergency scenario at Vale's 114 Orebody near Copper Cliff Mine on video, a first for an international competition. 
The remaining venues for the first aid, firefighting, high angle rope rescue, and technician events have not yet been announced, but will also be open to the public. 
Southern District - Goderich Memorial Arena, Goderich
Sudbury and Onaping districts - Jim Coady Memorial Arena, Levack
Timmins and Kirkland Lake districts - Archie Dillon Sportsplex, Timmins
Thunder Bay-Algoma and Red Lake districts - Delaney Arena, Thunder Bay
Related
International Mines Rescue Competition 2016 
International mine rescue competition appoints Canadian chair Marc Lauzier