Monday, December 05, 2016
Ensure safe flow of pedestrian, vehicle, and equipment traffic
Leading Practices: Traffic Management Plan - Please download, print and share
There is an ongoing serious workplace safety issue regarding workers being struck by mobile equipment and vehicles in company yards. Recently, a worker had his leg amputated after being run over by a transport truck, in addition, several workers have been critically injured and one was killed after being struck by loaders. During busy times, some plants have anywhere between 100 and 300 trucks going in and out of the property, 24 hours a day, seven days a week.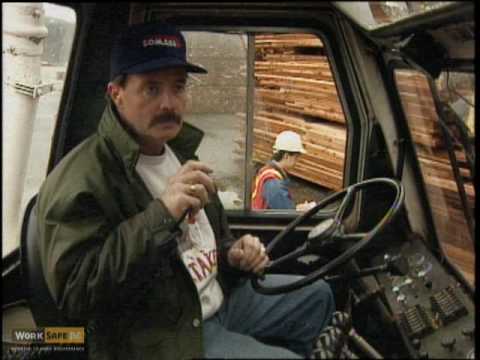 WorkSafeBC video takes viewers on a harrowing ride through a company yard.
"Struck-by incidents, including those within company yards, continue to make up the majority of work-related injuries within Ontario's paper, printing and converting sector, as well as forestry mills," says Tom Welton, Industrial Director at Workplace Safety North (WSN). "This exceeds the number of injuries from musculoskeletal disorders, which typically tops the list for most other sectors in the province. This continuing trend indicates a need for employers to provide added focus to addressing workplace issues which result in these types of incidents."
Safe operating procedures for employees and contractors
Many yards need better signage, improved communication for traffic entering and leaving the property, as well as consistent safety procedures for both workers and contractors. Pierre Brouzes, a forestry technician in northern Ontario, helped implement improved safety procedures after an incident in his workplace. Brouzes reorganized existing procedures to ensure that vehicle operators – both company drivers and contractors – entering the yard had a detailed explanation of what was expected every step of the way. 
"We had trucks coming in from everywhere – right across Ontario. In a previous incident – that's what had happened – they were not our trucks, they were other contractors delivering to our yard. So we decided to create a package with the yard procedure, a safety contract, and a sign-off sheet for the training. Plus all drivers must have a copy of the yard procedure in their truck when they come into our yard."
His company sent out safety packages to contractors, who trained their operators and had them sign the documents to acknowledge their training, and each were given the yard policy to keep in their truck. 
"This fixed a lot of problems," says Brouzes, "Because we have people coming in from everywhere, we needed something in place to make sure that everybody was trained the same way and our expectations were clearly communicated. So now our contractors are using this package to train their people and it seems to be working."
Biggest improvements to safety
Driver procedures, parking methods, and designated cable removal areas are all big changes made at their yard after the safety audit. One of the biggest improvements was that drivers are not allowed to step out of their truck once they are on the property, except in designated areas, and must follow safe operating procedures. 
"We created a separate area to remove cables which is surrounded by cement blocks, and that's the only place you're allowed to remove your cables. In the past we would have two or three trucks in a row removing cables and then other trucks are going by – that was also identified as dangerous because they had to back up to throw the cable, or to remove the cable from the load so the person is moving and there's trucks driving by creating a hazard, so we said, 'No more of that. The only place you're allowed to remove your cable is the cable removal area' and it's all blocked off with cement blocks to protect the person removing the cable. We did the same thing for when the truck is coming out. There's a trailer cleaning area which is also similarly surrounded with cement blocks to protect the driver once they exit the truck."
In the middle of the separated sections is a path for traffic. "Once loaders and chip trucks are in the logyard to get unloaded, they have to call in to say that they're ready to get unloaded. In the logyard, they are not allowed to step out of the truck. There's a few exceptions to that, but we have the SOPs [Safe Operating Procedures] that tell drivers what to do if they do have to get out of their truck. We have a few SOPs or methods on how to get out of a truck like say if your cable is stuck, they have a safe operating procedure."
For assistance in improving your Traffic Management Plan, contact your Workplace Safety North Health and Safety Specialist.
Related

Predicting collisions: Do you have the telltale signs of a bad driver?
Hazard Alert: Unsecured load results in fatality
Free downloadable resources including Safe Operating Procedures, Safety Talk, Poster, Road to Safety Driving Program