Marc Lauzier, Goldcorp VP welcomed by Workplace Safety North
When emergencies happen in the mining workplace, you usually can't dial 911. This is where highly specialized mine rescuers are called into action. Workplace Safety North is pleased to announce the appointment of Marc Lauzier as chair of the 2016 International Mines Rescue Competition (IMRC 2016), taking place August 19 to 27, in Sudbury – for the first time ever in Canada.
"We're honoured that Marc, who is also Chair of the Ontario Mining Association, supports this unique event," says Ted Hanley, Ontario Mine Rescue (OMR) General Manager. "While this is the first time Canada hosts the International Mines Rescue Competition, Marc and the OMA have been passionate supporters of Ontario Mine Rescue for many years." Sudbury is home to OMR, a part of Workplace Safety North (WSN). and it equips and maintains a network of mine rescue stations across the province to ensure emergency response capabilities. 
It was during his first year in the mining industry more than 20 years ago that Lauzier, now Goldcorp Vice President of Operational Support in Canada and the United States, signed up for mine rescue training in Quebec. Originally from Timmins, Lauzier worked n the mining industry in Joutel, Quebec, and in Ontario in Timmins, Thunder Bay, Red Lake, and currently resides in Toronto.
"My very first year in the business, I took mine rescue training in Quebec," says Lauzier, "When I moved to Ontario, it took me a couple of years to get back on the team because there was a waiting list back then! I finally got back on the team and I was probably active for five or six years and then I went on as a briefing officer and did that for a while until I got promoted to roles where I needed to work in the control room."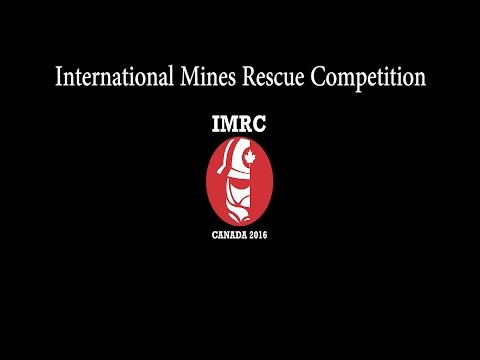 Lauzier has participated in mine rescue competitions, and currently supports friendly mine rescue competitions within his own organization's global mine locations. He plans to work with others to assemble a team for the IMRC 2016 with representatives from each of his company's mines.
"The best part of this competition is that we can share best practices between all the teams from all of the countries. In Canada, there are variations from province to province. For instance, Quebec has a six-person team and Ontario has a five-person team, even though we use pretty much the same apparatus," notes Lauzier. "I think it's great. We're going to see somewhere between 20 and 30 teams from all around the world and from within Canada, and we're all going to have different ways of doing things. It's going to be about challenging ourselves to not think that our way is always the best, because there are things we're going to learn from watching other teams."
The general public has been invited to attend, and Lauzier notes the Sudbury community has a special opportunity to observe the intensity of the competition, and the strength of their unique and special camaraderie.
"I think, from a public point of view, it's really interesting to see the camaraderie and yet the competitiveness of the teams. I know that everywhere I've seen mine rescue teams around the world and even during mine site visits in Australia and Africa, down in Mexico and Guatemala, there are always both active mine rescue people and surface emergency responders who do a great job. But we each do things our own way, and we all have the same goal, and that's to save lives and make things safer at the end of the day. I think it's going to be quite interesting to watch."
Since its inception in 1999, the biennial International Mines Rescue Competition has grown and evolved into a unique event that attracts mine rescue teams and observers from around the world. Although awards are handed out to recognize elite performance, the goal of the event has always been to allow mine rescue teams to learn from the best practices and tragedies that occur around the world. 
As organizer of Ontario's annual district and provincial mine rescue competitions, Ontario Mine Rescue continually works to develop specialized mine emergency response training programs that have been adopted elsewhere in Canada and in several countries around the world.
For more information, please visit imrc2016.ca
Related
Retirement notes from the underground: Alex Gryska on the evolution of the Ontario mine rescue program from 1975 to 2015
International mine rescue competition to host judges from around the world
Mine rescue communications: A matter of life and death
Global mine rescue conference wraps up with field trip to Sudbury
Resources