Three-year window to take refresher training legislated in 2016
by Tiana Larocque, WSN Program Training Specialist
Joint Health and Safety Training information sheet - please download, print and share
Under the Occupational Health and Safety Act, most Ontario workplaces with 20 or more employees must have a Joint Health and Safety Committee (JHSC), with at least one committee member representing workers and one committee member representing the employer – each must possess JHSC certification. 
Updated 2016 JHSC legislation requires refresher training every three years
On March 1, 2016, a new JHSC certification training program standard became mandatory in Ontario, including a new requirement for refresher training every three years. JHSC members granted certification status after March 1, 2016, require one day of refresher training every three years. This helps members and their organizations stay current on the latest legislation and training for their specific industry.
What to expect at refresher training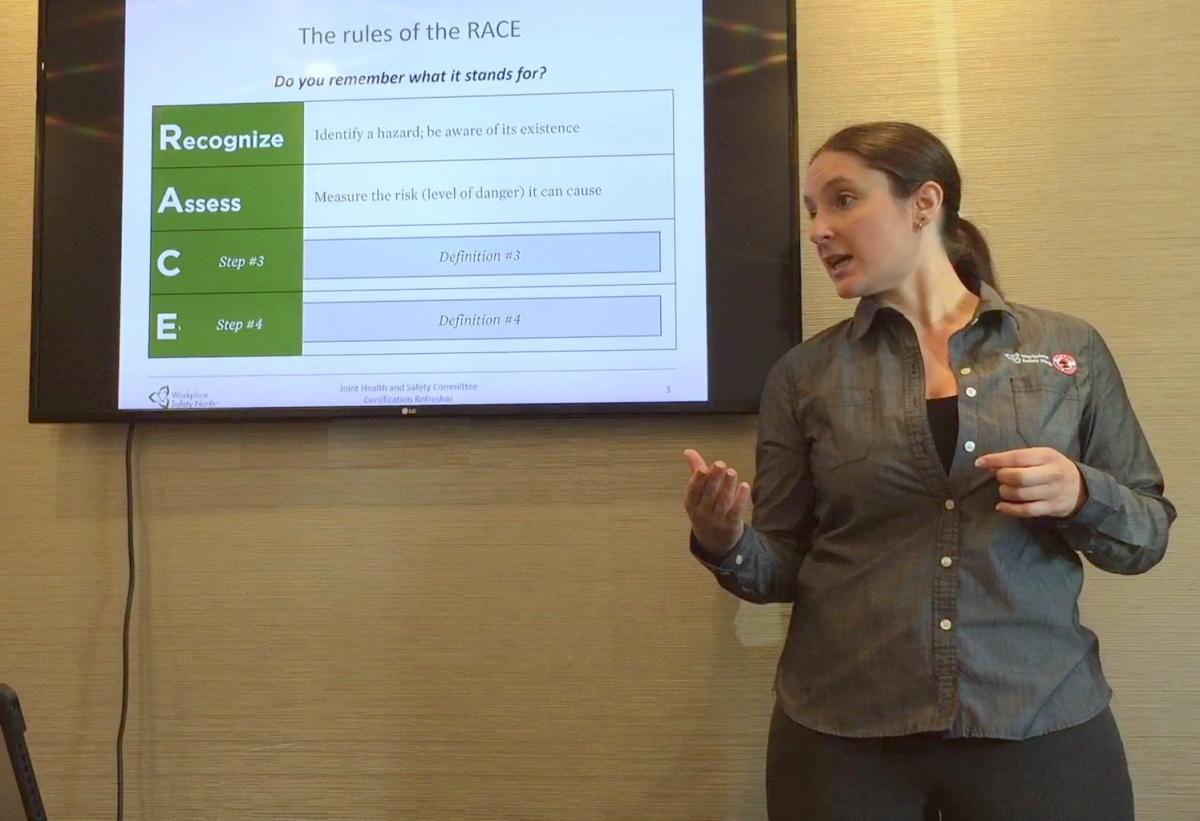 The refresher training includes a review of key concepts in Part 1 and 2 of JHSC certification along with updates to legislation, standards, and best practices. The one-day training program provides the most up-to-date information that JHSC professionals can use to keep their workplace health and safety practices current and effective.
Four sections: Review of legislation, roles, hazards, plus evaluation
The first section reviews health and safety legislation from previous certification training, and provides updates to legislation, helping ensure participants and their committees are following due process.
The second section reviews roles, scope, and functions of committee members, including a review of workplace inspection and work stoppage processes. Participants also reflect on and explore their own committee strengths and opportunities, and develop strategies to enhance effectiveness.
The third section provides a review of six primary hazard types, along with an outline of the latest best prevention practices for hazard recognition, risk assessment, control implementation, and follow-up.
To wrap up the course, participants write an evaluation to demonstrate their understanding of these critical health and safety concepts, showing their preparedness and determination to contribute to health and safety practices in their company operations.
Purpose of JHSC
The Joint Health and Safety Committee is an advisory body made up of workers and supervisors that helps raise awareness of health and safety issues in the workplace. The committee meets regularly, conducts regular workplace inspections, and makes written recommendations to the employer for the improvement of health and safety. 
The internal responsibility system or 'IRS' is the foundation of Ontario's approach to workplace health and safety, and it's built on the principle that everyone in the workplace shares responsibility for occupational health and safety according to their ability to influence it. Both employees and employers work together to recognize and control hazards or dangers in their workplace in order to achieve optimum health and safety. 
WSN health and safety and program training specialists look forward to providing this necessary training to JHSC members so that they can maintain their certification and further equip themselves with knowledge and strategies to keep their workplaces safe.
Tiana Larocque has a Master's Degree in Education with a focus on adult education, which she uses to design and teach a variety of health and safety courses. She helps develop and update many JHSC-specific programs, including refresher training. For more information, contact tianalarocque@workplacesafetynorth.ca. 
 Related
JHSC refresher training calendar
Top 10 things to know about new Joint Health and Safety Committee training law
Key changes to Joint Health and Safety Committee certification training
French-language JHSC Certification Part 1 training now available